Lobbyist says donation service needs to put bigger slice of its funds into raising awareness among Kiwis.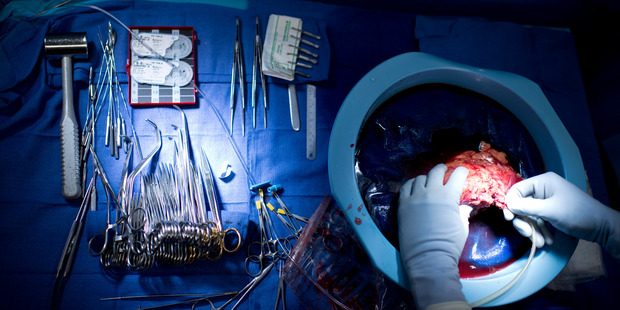 The budget for New Zealand's organ donation service has increased more than 700 per cent, to almost $2 million, but for the same 10-year period the number of deceased donors has gone up by only six.
At the same time the number of staff at Organ Donation New Zealand has risen by 11, up to 13 full- and part-time, since 2004.
The figures, released under the Official Information Act, have shocked long-time campaigner Andy Tookey, who says the Government is wasting crucial funding that could be used to promote organ donation through public awareness drives.
New Zealand has one of the lowest rates of deceased organ donation in the world, with a record of 46 donors last year - four of whom did not have organs transplanted.
In 2003, two years before Organ Donation NZ was launched, there were 40 deceased donors.
For the same financial year, the operating budget of the then National Transplant Donor Co-ordination Office was $270,267, and there were two full-time staff and one part-time.
Since then that number has jumped to 13, six of them full-time, with an annual budget of $1.91 million.
As well, the Government has made allocations of $8 million since 2012, including $4 million to encourage more deceased donation.
But Mr Tookey, whose 13-year-old daughter Katie needs a liver transplant, says that hasn't happened.
"In real terms over 10 years there's only been two more donors, so what are 13 staff doing compared with 10 years ago?"
Mr Tookey said he was not advocating a cut in funding for organ donation, but that a big chunk of the budget be redirected into campaigns to raise awareness and attract more donors, as is done in other countries.
New Zealand's donor rate per million population is less than nine, around half of Australia's and well below the world leader, Spain, which is on about 35.
Mr Tookey has called for an organ donor register and wants families better equipped to deal with the emotional trauma of being asked to donate the organs of a brain-dead loved one.
"A lot of families are saying no because they're being asked at the worst possible time."
In New Zealand, even if a person ticks yes to organ donation on their driver's licence, the family's wishes override that choice in the event of their death.
Mr Tookey said there was not enough to spur family conversations about organ donation.
Organ Donation NZ clinical director Dr Stephen Streat would not answer questions about the budget or staff increases.
However, donor co-ordinator Janice Langlands told the Herald in February that registries alone did not lift donor rates and it was hard to measure if public awareness campaigns made any difference.
A spokeswoman for Health Minister Jonathan Coleman said he had officials looking into the points raised by Mr Tookey.
Labour's health spokeswoman, Annette King, said it was time to look at what other countries were doing "especially when you're getting up to $2 million in money".
"It is surprising we've got very little lift [in deceased donations]."
Ministry of Health Personal Health Service Improvement group manager Dr Deborah Woodley said although raising awareness of organ donation played a part in lifting rates, clinical advice was that it was more important to have an effective process in intensive care units.
"If clinical staff do not have the right processes and training when a potential donor is dying in an intensive care unit the level of awareness of the patient and family is of less importance - as the potential donor may not even be identified."
Increases since 2004
Organ Donation NZ budget 707%
Full-time staff 300%
Part-time staff 700%
Organ donors 5%